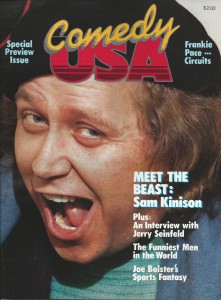 On April 1, 1986, I launched Comedy USA magazine with a party and live show at The Comic Strip in New York.  It was a magazine dedicated to rising stand up comedy stars and everything about their business. The conceit that made this publication different was that the people who produced it were also professionals working in comedy. Nothing bothered me more in those days than reading articles about stand-ups in local papers where almost without exception, jokes would be mangled and misquoted by reporters covering comedy as part of an entertainment beat rather than as a passion for the craft.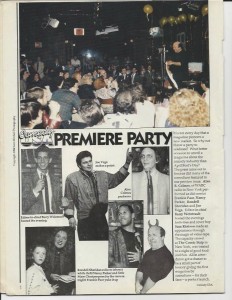 The idea was to give the magazine away to the growing hordes of fans filling comedy clubs from coast to coast, making money through advertising dedicated to those very same fans.  That was not my original idea. I was actually thinking much smaller. I was just going to start making phone calls to people in the business to confirm and get details on rumors I was hearing every night in the clubs and just kinda sorta become the comedy industry journalist. Eventually, with the entry of competition from bigger, more experienced publishers with deep pockets, I wound up reverting to my original plan in a last ditch effort to keep the enterprise afloat. And that's how the original Comedy USA Newswire was born.
For those still around who remember that publication, it was low on style but long on original content. With the Newswire, I had created the "Variety" of comedy. It was unquestionably a "niche" but there was a dedicated community that seemed to enjoy it and get use out of it and I guess I could have kept on doing it had I not decided to focus on performing. At the time it was the wise decision that paid off almost immediately.  No sooner did I stop reporting on everyone else's business in comedy than I started to generate some of my own.   I  finished in the top five of the San Francisco comedy competition two years in a row, decided to move to The Bay Area and wound up with an afternoon drive FM talk radio gig just months after getting settled.
But I digress.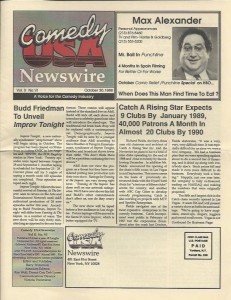 The focus here is the Comedy USA Newswire and it's progeny: The Comedy USA Industry Guides.
As I scan the comedy landscape in 2015, I've made a few observations. Almost everyone has a podcast. There are several online publications dedicated to comedians and the comedy business. There are aggregator websites uniting podcasts into networks. And there is a huge appetite for not only stand-up comedy but also for improv and sketch comedy, which admittedly I personally know very little about.  What I don't see as I scan comedy on the internet is the structure I created in the late 1980's that united the clubs all across the country in one annual directory as it also did with comedians and comedy professionals from coast to coast and around the world.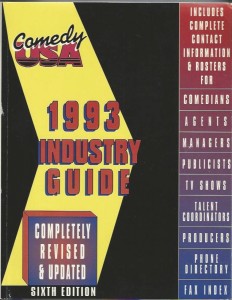 And so as I approach April 1, 2015, I am setting out on a journey to either rebuild that infrastructure, culminating eventually with the launch of a new ComedyUSA for the 21st century. Or I will fail by researching the project to death, talking with people who's opinions I value and documenting those discussions here.
I believe I just read in Wikipedia that it was a Chinese Philosopher named Lao-Tsu, who once said:  "the longest journey starts with a single step."  And it was Jackie Gleason, a comedy giant who said: "And Away We Go!"